Make sure you like Plant Care on Facebook to be updated every time we find a great tutorial along with exciting and innovative ways to use and care for plants.
Summary: This is Part #3 in a 3 Part series of lawn care questions and answers submitted from visitors at plant-care.com. Part 1 | Part 2
We have just moved to New Orleans and have bought a new home. As Northerners, we aren't familiar with the best lawn grasses for the south. What do you think we should plant?
Answer: One of the grasses widely used for lawns in the south is St. Augustine grass. Another one that grows well is Bermudagrass when it is adequately fertilized.
The zoysia grasses have a place for lawns where the level of maintenance is likely to be low. Here again, wherever you go, if you are not familiar with the lawn grasses in that area, start talking to the county agent.
This should get you a pretty clear idea of what grasses are best adapted in your area.
Question: What time of year should I start a new lawn?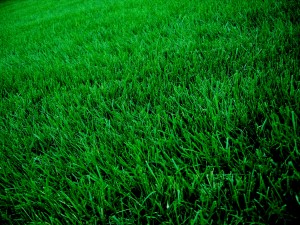 Answer: If one had a choice, it would be in late summer for the cool-season lawns and early spring for the lawns composed of the warm-season grasses such as centipede, St. Augustine, zoysia, and others.
Too often the new lawn must be started when the new home is finished, regardless of whether or not it is the most favorable time to plant the grasses adapted to that particular region.
When the new lawn must be planted in an off-season, it may be best to make thorough preparation and then make a seeding of temporary grasses. This serves to control erosion, mud and dust until the proper time to establish the adapted perennial or permanent grasses.
Question: How do I know what kind of grass seed or mixture to select?
Answer: Every state agricultural experiment station has information on this, usually in the form of bulletins, distributed through the state agriculture extension service.
Most reputable grass seed vendors depend upon the experiment stations for up-to-date information, and their advice on seed mixtures usually follows the experiment station's recommendations.
A good rule of thumb in selecting any grass seed or mixture is that the major part of the mixture should contain perennial or permanent grasses, that will make up the permanent lawn.
Question: If I can't start a permanent lawn now, is there any sort of seed I can sow for a temporary effect?
Answer: Yes, in most cases ryegrass is the quickest growing temporary cover. It controls erosion, mud and dust until it is lime to plant the permanent grasses. This is one of the best uses for ryegrass.
I would far rather use it in this connection than in a mixture of permanent grasses where it actually becomes a "smother" crop and retards the development of the permanent grasses.
Question: If I am going to make a new lawn in the fall, is there anything I should do now toward preparing the soil?
Answer: Yes… The soil for a late summer or early fall planting of cool-season grasses can be put into shape while the seedbed is being prepared for the temporary sowing of ryegrass. Ample lime, if it is needed according to the soil test and plenty of fertilizer should be worked thoroughly into the soil to a depth of 4 to 6 inches.
There should be ample soil fertility, not only to grow the temporary cover of ryegrass, but to have a good reserve in the soil to promote the growth of permanent grasses when they are planted in the fall.
Question: What kind of soil is best for a lawn?
Answer: The best answer to this is the – kind of soil that is already there.
In general, topsoil is not required for the development of good lawn turf. Topsoil too often is thought of as being synonymous with fertile soil, when actually quite the reverse may be true.
Much "topsoil" that I have seen has come from somebody's cleared lot or basement excavation. It is called "topsoil" when it is delivered to the lawn and placed on top of the existing soil.
If cost was not a consideration and you were able to get a particular kind of soil, then it would be possible to say that a medium sandy loam would be the best for a lawn.
However, that is not necessary, for with our present day knowledge of cultivation and fertilization of soils and with the better grasses that we have today. We can make an acceptable lawn on almost any kind of soil that occurs in the locality.
Question: Can I grow grass on a steep slope?
Answer: Yes… if you select the kind of grass that is adapted to the particular type of slope. One of the reasons that grasses do not grow well on steep slopes is that the water runs off, leaving the soil too dry for the best growth of grass.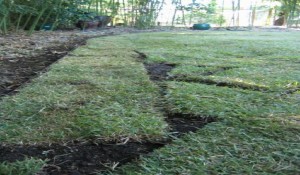 Also, much of the fertilizer is washed away, if the fertilizer is put there in the first place. It is just as easy to grow grass on a slope as on level ground if the basic principles of cultivating (aerifying) the soil, liming and fertilizing, and adequate watering are followed.
However, because of the droughty nature of slopes and the runoff of rainfall, it will pay to select those grasses that are most drought and heat-resistant.
In the north, these grasses are Kentucky bluegrass, Kentucky & fescue and red fescue.
In the mid-south or transition zone, one of the better grasses for slopes, especially south-facing slopes, is zoysia. Bermuda grass, where it is desired, makes an acceptable slope grass because it fulfills the qualifications.
Farther south, any of the warm-season grasses such as centipede. Bermuda. zoysia and St. Augustine may be used.
Question: The grass under my large trees never does well. What can I do about it?
Answer: One of the reasons that grass fails to do well under large trees is because of the competition for water, plant food and light. The tree gets first call on all of these requirements for good grass growth.
In my case, I follow the practice of thoroughly cultivating (aerifying) the soil several times a season. Also… I select the grasses that are best able to grow under those conditions.
Third… I fertilize more generously under the big trees because you have to feed both the tree and the grass. However, I tend to concentrate my fertilizer during that period of the year when the tree is making the least demands for water, plant food and light.
Question: I think my lawn needs fertilizer.. What should I use, how much and when should I apply it?
Answer: Most lawns need far more fertilizer than they are receiving. It is impossible in a limited space and time to describe all of the recommended methods, rates and times of fertilizing lawns.
All of this information is easily available from experiment station bulletins and from local seed stores that follow experiment station recommendations. Also, the local golf course superintendent many times is in a position to help members of his club with their problems.
In general, it is far better to fertilize frequently using rather sparing amounts each time than to try to put on the whole season's supply in one application.
Burning is one of the difficulties that home owners run into when fertilizing their lawns.
By using lighter amounts more frequently throughout the grass-growing season, danger of burning is minimized.
More Lawn Care Questions & Answers – Part 1 | Part 2